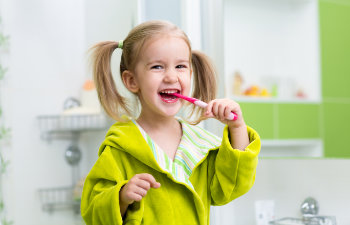 As a parent of a young child, we know you have a lot of battles and responsibilities throughout the day. When it comes to getting your child to brush his or her teeth at the end of a long day, the task can seem quite daunting. However, teeth brushing doesn't have to be a dreaded chore. In fact, it shouldn't be. Your child's oral health care habits at a young age can drastically influence how much they value their smile as an adult.
In general, we recommend not letting your child brush alone until they have enough dexterity to do the job effectively. Everyone should brush twice a day, for two minutes each session. To a child, those two minutes can seem like an eternity – but there are ways to help.
Here are some popular ideas to make dental hygiene a positive and even "fun" experience in your household.
Get an App
There's an app for everything – even dental hygiene. You can use technology to your advantage this time and download an app that helps your kids brush longer and better. You'll be surprised at the number of available app options for all ages.
Sing A Song
Does your child have a favorite song? Make it a tradition to sing that song each time they brush their teeth to make the 2 minutes fly by.
Create a Reward System
If your child is motivated by rewards or prizes, this is an easy way to help them stay on track with their brushing habits. Consider a small (non-candy) award at the end of the week for brushing every day without complaining.
Be A Model
Finally, don't dismiss the influence of your own dental care habits. Make sure you child sees you brushing and flossing each night. Your modeled behavior and attitude towards your dental health can strongly shape your child's perspective.
When it comes to daily brushing and flossing with your child, get creative. It may require a few extra minutes of energy or planning, but making dental care a positive experience in your house is important. In fact, it makes our job a lot easier too! At Buford Family Dental, we are committed to providing a place your child looks forward to coming to. Schedule your pediatric dental cleaning today.