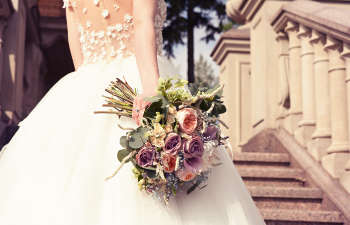 Did the countdown to your wedding day begin yet? If your wedding is this spring or summer, you most certainly have a timeline rolling. The list of things to do to prepare for your wedding can seem endless. Buford Family Dental can help you with one of the most critical parts of your big day; your wedding pictures! While we are not wedding photographers, we can get you ready for the wedding photographs with a cosmetic procedure called porcelain veneers.
According to an article in Harper's Bazaar, "the total number of pictures taken on a wedding day adds up to a staggering 3,000." They averaged the number of pictures taken by each guest (based on 100 guests) along with the professional photos taken to arrive at the staggering amount of 3,000.
Are you ready for it?
Porcelain Veneers For Your Wedding Pictures
Porcelain veneers are an excellent solution for tooth discoloring, misalignment, and gapping. They can also help with worn down, chipped or broken teeth. Come see us at Buford Family Dental to see if you are a good candidate for porcelain veneers. If you are a good candidate, custom-made shells of tooth-colored materials will cover the surface of your teeth to improve your appearance in a natural-looking way.
Book your appointment with Buford Family Dental to get ready for your big day. Keep in mind; the process usually occurs over three visits to our office. It takes approximately two weeks for a laboratory to create your custom veneers as well. As you're counting down and preparing for your wedding, add a beautiful smile to your list to ensure you are ready for your big day and all those pictures.