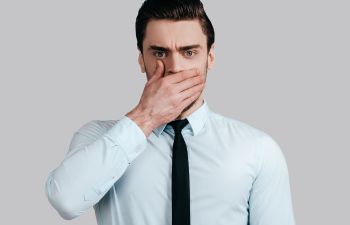 Halitosis certainly can put a damper on your kissing plans. Do you have plans to "accidentally" encounter your secret crush under the mistletoe? If you do, are you ready for that kiss? Are you certain your mouth will be ready to be super close to the nose of the person you want to kiss? A bad scent emitting from your mouth into the nose of the person you're kissing can certainly ruin that romantic moment you've been planning.
Halitosis is another way of saying "bad breath." Halitosis is considered to be severe bad breath. It can be a sign of other more serious health issues. At Buford Family dental, we will help identify what is causing your bad breath with our general dentistry treatments. We will perform a complete checkup and cleaning at our office and inspect for signs of gum disease, abscessed teeth or a large cavity. All of these are common causes of halitosis. Treatment may relieve your bad breath.
Have you tried masking your bad breath in order to be mistletoe-ready? Are the mouthwash, chewing gum, brushing and flossing not working? It's time to book your dental appointment with Buford Family Dental today.
At Buford Family Dental we want to help you have a happy and healthy holiday season. We are committed to our patients. We offer you quality service and care as our primary goal. Book your appointment with Dr. Finot or Dr. Patel today. We will get you ready for all your close holiday encounters!