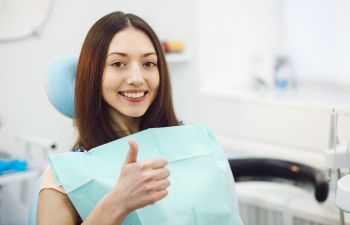 With the onset of COVID-19 hitting our great nation and world, businesses across the globe have had to shut down normal operations in order to combat the exposure and spread of Coronavirus. The development regarding the Coronavirus outbreak has led Governor Brian Kemp to officially declare a public health emergency for the state of Georgia. Additionally, the American Dental Association (ADA) issued a recommendation for all dentists nationwide to diminish the spread of COVID-19 by reducing their practice operations to procedures that the ADA categorizes as either "emergency" or "essential." As a result of these guidelines, Buford Family Dental will only be seeing patients that fall into these two categories on Wednesdays of each week. **Please be advised that if you have a fever, cough, or any other symptoms of illness, we will ask you to reschedule your appointment to avoid exposure to our staff.
Without access to regular dental appointments, it is more important than ever that you take care of your teeth. NOW is the time for proper oral hygiene!
Proper oral hygiene truly is a simple process, and it really requires only 3 easy steps:
Floss your teeth daily. Flossing the teeth is the most important step in proper oral hygiene. Dental floss is the only tool that can reach between the teeth to remove harmful, bacteria-laden plaque from your teeth and gums. On average, it takes about 90 seconds to floss. Make this a habit!
Brush your teeth twice a day. Brushing your teeth helps loosen and remove plaque that builds upon the surfaces of your teeth each day. It is important to brush every morning and before bed. Feel free to brush during the middle of the day if you need or want to!
Choose healthy food and beverages. What you eat affects every aspect of your health – including your oral health. A diet high in sugar will negatively impact your teeth. Oral bacteria thrive off sugary particles, so limiting the amount of sugar you consume is important for your teeth.
At Buford Family Dental, we are here to support you during this unprecedented time in our world. Please do your part to take care of your teeth!