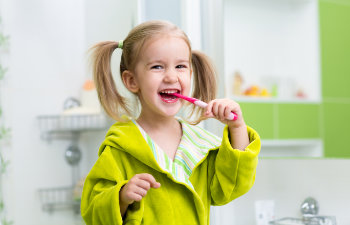 When it comes to young children, getting them used to certain things early is often vital for their health and growth later on. For instance, feeding your baby a variety of fruits and vegetables as soon as they can eat baby food will help their taste buds develop a taste for healthy food options. Limiting sugar and desserts will curb their "sweet tooth" so that they don't always want treats or desserts after every meal. Another consideration for early intervention is how important it is to take your children to the dentist from a very young age.
The American Dental Association recommends that all children visit the dentist before the age of two. Many parents are shocked to hear of such a young age recommendation, but the general idea is to get your child used to visiting the dentist.
Children who are exposed to the dental office, dental staff, and procedures at a young age are more likely to develop a healthy appreciation for oral health. At the very first dental visits, no "work" will be done inside your children's mouths unless there is a serious concern. At the early visits, children will have their teeth counted, they will learn how to hold a toothbrush properly and how to brush well, why eating healthy foods is important, and will be gradually introduced to the cleaning tools used at the dentist's office.
The main goal for early dental visits is to develop a trust for your children towards the dentist and hygienist. Children who feel comfortable at the dentist will most likely gain an early understanding of the importance of regular dental visits. It is also important for the dentist to see your children from the very start. When a dentist has a "baseline" for what your children's teeth look like, s/he will be able to catch any concern quickly because s/he has a complete picture of your children's oral health history.
At Buford Family Dental, we welcome the youngest patients to our practice. We understand the importance of creating a comfortable, positive attitude towards visiting the dentist, and our entire staff will go out of our way to start your children's oral health off on the right foot. Call us today!