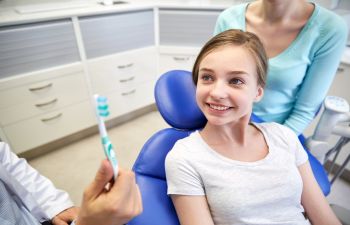 Halloween has come and gone, but the candy can linger for weeks – if not months. While eating a little bit of candy won't kill any of us, it is essential to set limits. Understanding what happens inside your mouth after you eat a lot of sugar can help you limit how much sugar you choose to eat.
It is no secret that too much sugar is bad for you. It is bad for your weight, bad for your heart, and it is bad for your oral health. Diets high in sugar can lead to heart disease, obesity, and can cause life-threatening issues for those with diabetes. It is also important to know that sugar is a direct cause of cavities, decay, and gum disease. Before you dig into your kids' Halloween candy and before you allow your kiddos to binge on candy, here is what your dentist wants you to know:
Millions of tiny bacteria live inside your mouth on a daily basis. These bacteria help to break down food particles left behind after you eat and after you drink anything other than water.
As the bacteria work to break down particles inside your mouth, they create acids to assist their endeavors.
Oral bacteria congregate in large quantities around sugar particles. They love sugar the most, and because of this, they produce a great deal of acid around any sugar particles they find inside the mouth.
When acids linger in certain places, they will create tiny holes in the teeth called cavities.
Acids that are allowed to build up in plaque around the gum line will lead to gingivitis and progressive gum disease.
If your diet consists of a high amount of sugar in the foods and drinks you consume, your teeth are under constant assault from acid-producing bacteria. It is very tempting to keep a treat bowl around after your kids go trick-or-treating, but your smile will thank you if you limit your candy stash.
The dental team at Buford Family Dental encourages everyone to brush twice a day, floss daily, visit the dentist regularly, and limit sugar intake as the best ways to protect your oral health.