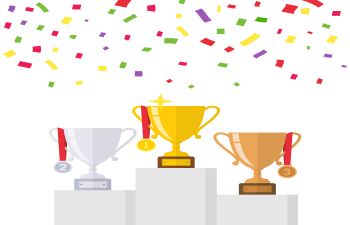 This year's Winter Olympics in PyeongChang draws all of us to the television to see what amazing feats the athletes are doing in 2018. Both young and all, and everyone in between, love the thrill of Olympic competition. Competition and winning is a great motivation for doing much of what these athletes are doing. They have their eyes on the Olympic medal.
Are you struggling to get your kids to perform their daily dental routine each day? If you are, why not throw in some friendly family competition and some fun "medal" awards and see if you can use the Winter Olympics to your dental advantage?
Your child should be brushing two times a day, two minutes each time. Find something that motivates your kiddo to perform this dental task each day. Why not create something that replicates a gold, silver and bronze medal. Each day when your child brushes, they may put a sticker on a chart or a cotton ball in a clear container. Tell your child that if they get a perfect score of 42 (research suggests that it takes 21 days to form a habit) they get a gold medal! 41 stickers or cotton balls gets them the silver and 40 gets them a bronze. Perhaps you could hold an Olympic "ceremony" with your child and cheer wildly for them while they get their well-earned medal for brushing.
At Buford Family Dental, we love your kids! We make our children's dentistry fun, relaxing and motivating. We look forward to seeing your little ones in our office so we can give them a high-five for a job well done!